---
Exway Flex is a feature-packed electric skateboard at a very affordable price. A sleek looking but very powerful board with fast acceleration, high max speed and powerful brakes.
Exway Flex comes with four speed modes:
Beginner mode
Energy-saving mode
Intermediate mode
Advanced mode
Max speed of 40km/h and up to 30km range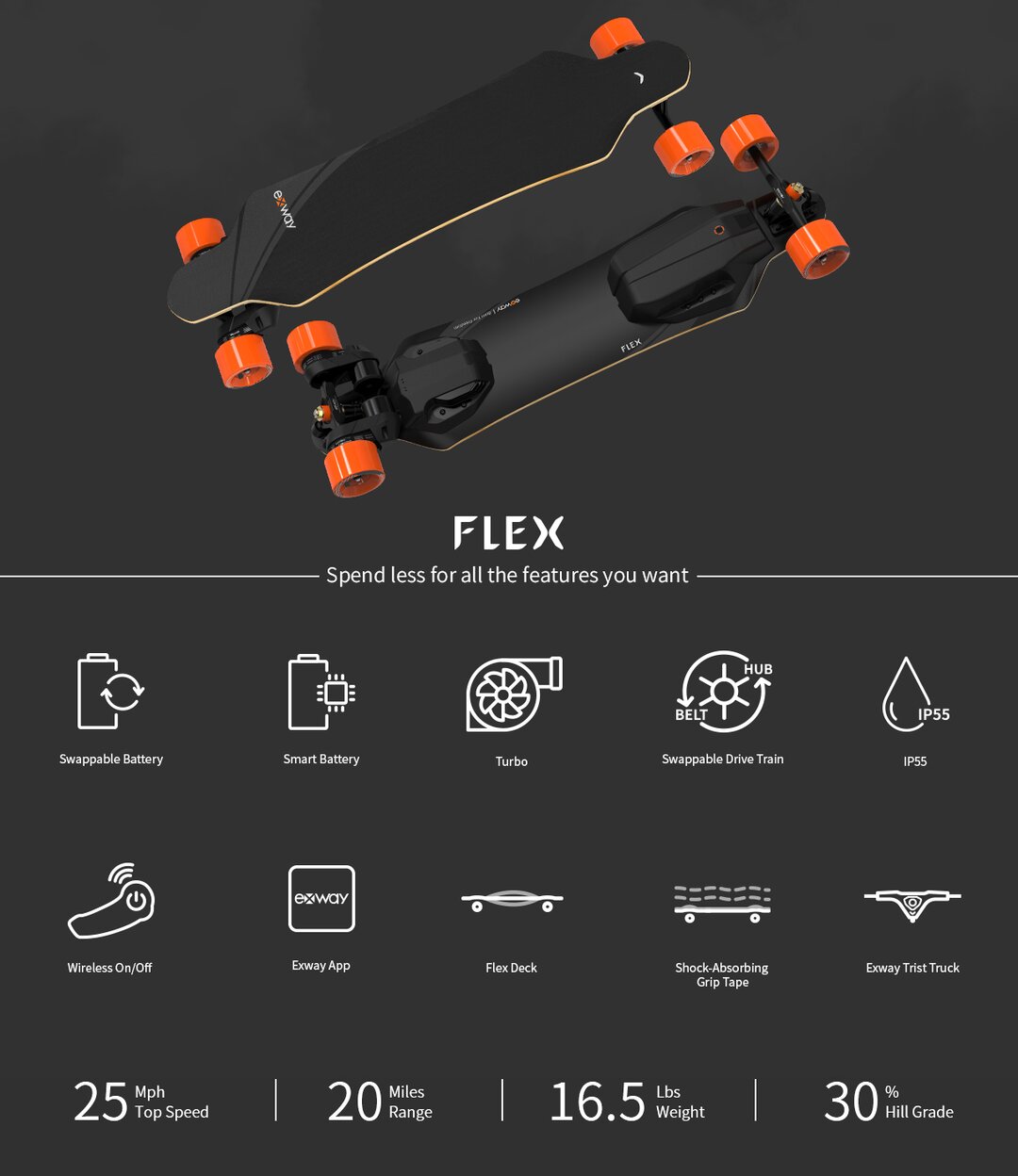 Super Flex Deck
The deck is made out of alternating layers of fiberglass and bamboo to create a super-though and elastic deck. The deck is also optimized to be compatible with a wide range of different wheel types and and sizes. Just like it's predecessors X1 and X1 Pro the Flex deck comes equipped with a shock-absorbing grip tape for improved comfort and strength.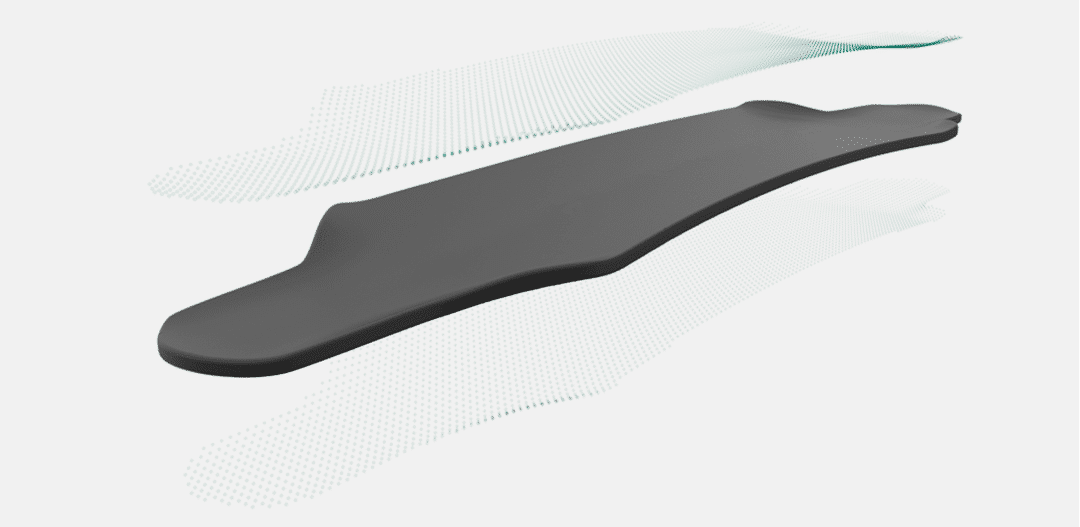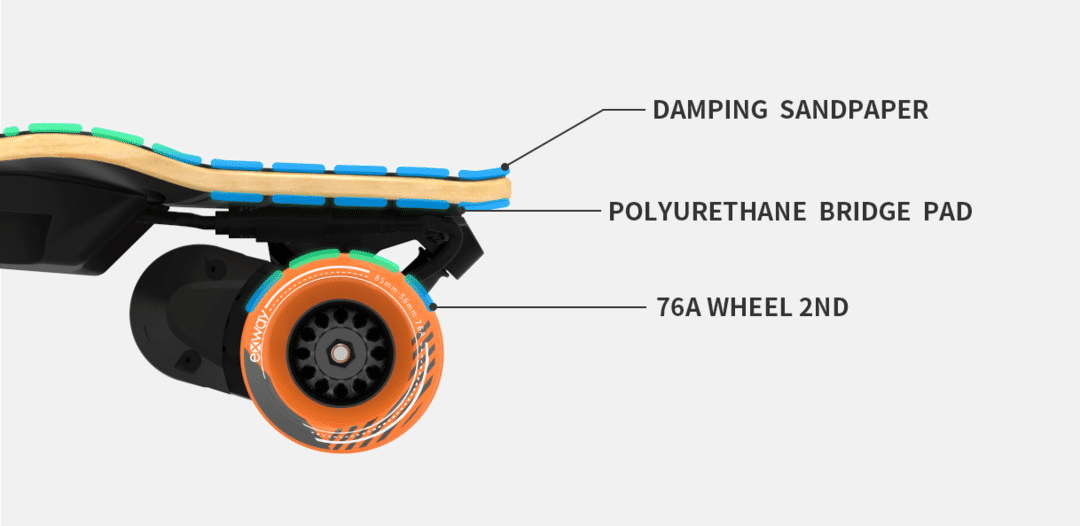 Swappable Drivetrain Options
Exway Flex has a swappable drivetrain system. Changing from hub motors to belt driven is really easy and pluggable (Exway Flex Hub/Exway Flex Riot). You do however need to purchase the drivetrain you want to change to separate. If you start off with an Exway Flex Hub it's easily swappable to an Exway Flex Riot if you purchase the drivetrain for Riot. 2 x 1500W belt motors and high quality belts gives you a real power pack of a board. Motors and belts are protected by covers made of high strength nylon that reduce the risk of impact damage.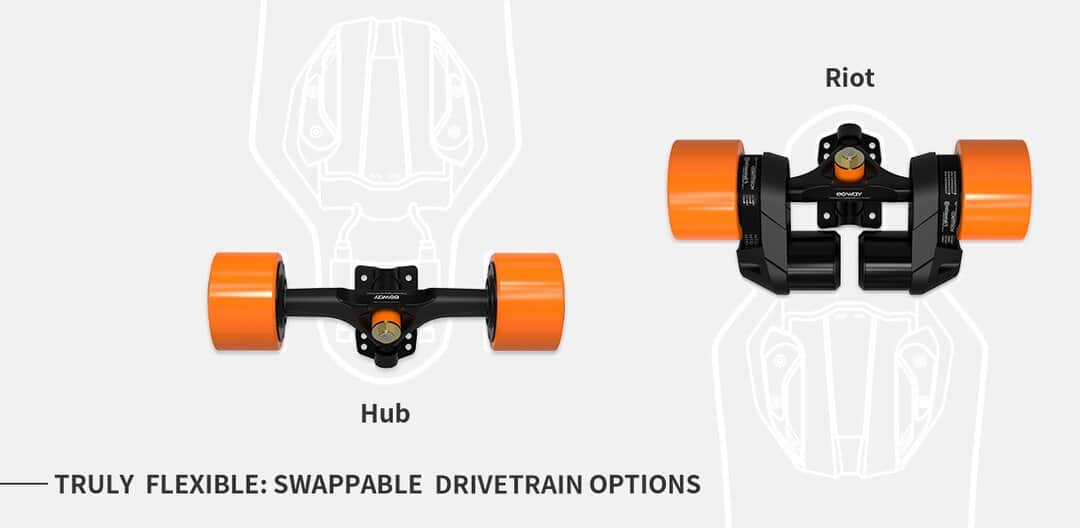 Smart app
The new app makes it easy to optimize your Exway Flex for your personal preferences. It connects to your board via Bluetooth and lets you adjust acceleration and brakes to dial in your ride. There is also support to track your ride, battery status and temperature of the ESC and battery.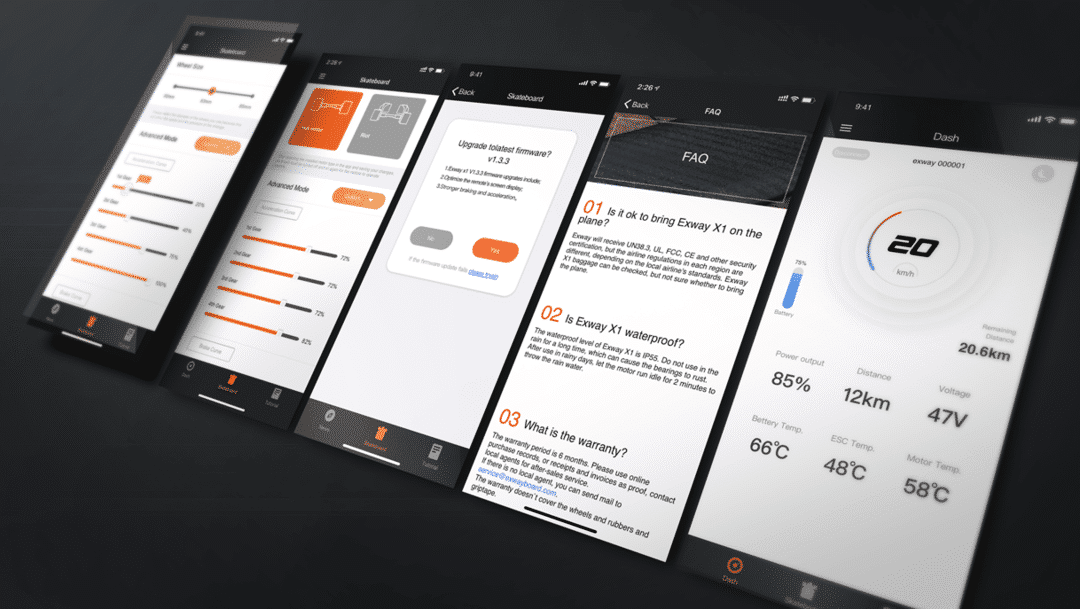 Remote Control
The remote control has a feature that might seem insignificant but after a while you won't understand how you could live without it, namely power on/off the board from the controller.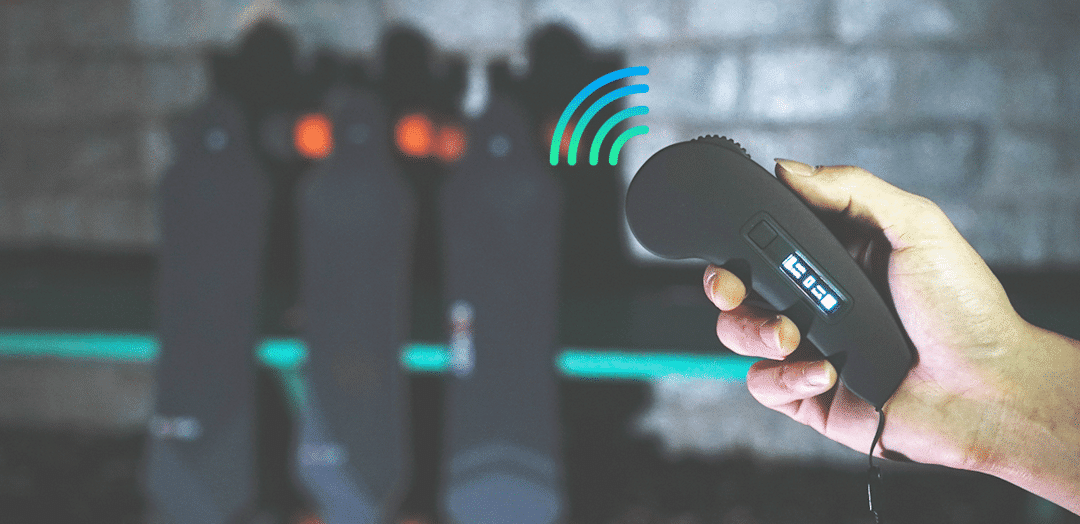 Modular design
The modular design of the ESC, battery, and power system means each part can be easily swapped.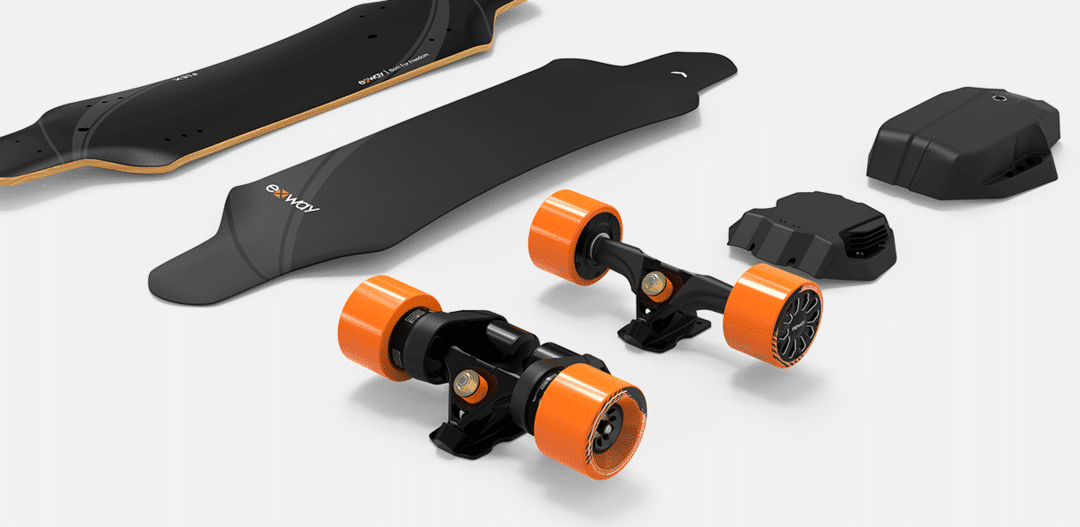 Smart Battery
The battery pack is constructed out of SONY VTC6 18650 cells with a high discharge rate ensure strong performance and reliability. 24 safety sensors connected to the ESC leaves no unmonitored cells. Long-term storage will automatically trigger the low-power mode.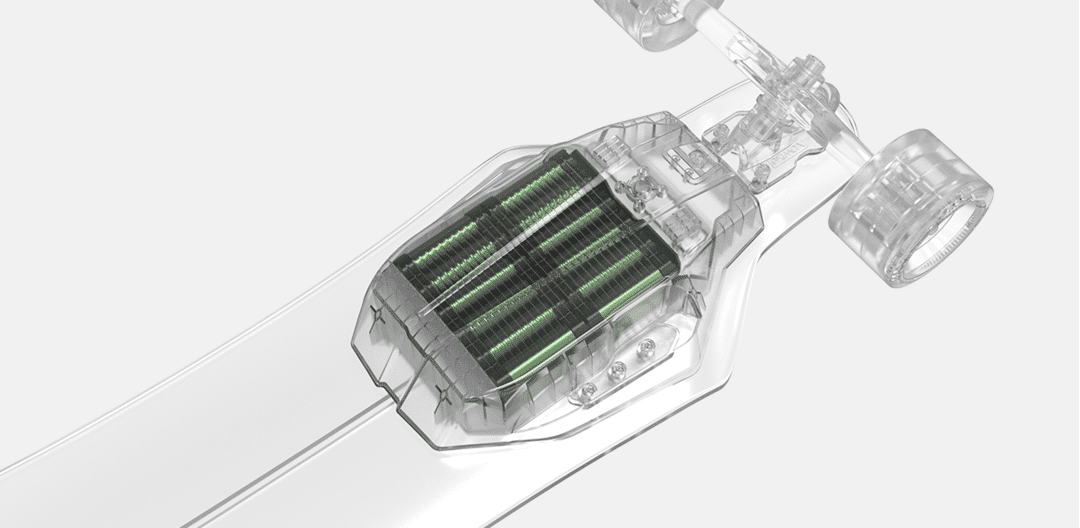 Exway Trist Truck
The all-new Trist truck utilizes a Proprietary Forging and CNC Milling Manufacturing Process developed by Exway Engineering Team for improved strength compared with traditional die-cast trucks. Industry-standard bushing sizes mean compatibility with most bushings on the market allowing you further flexibility to customize your carve.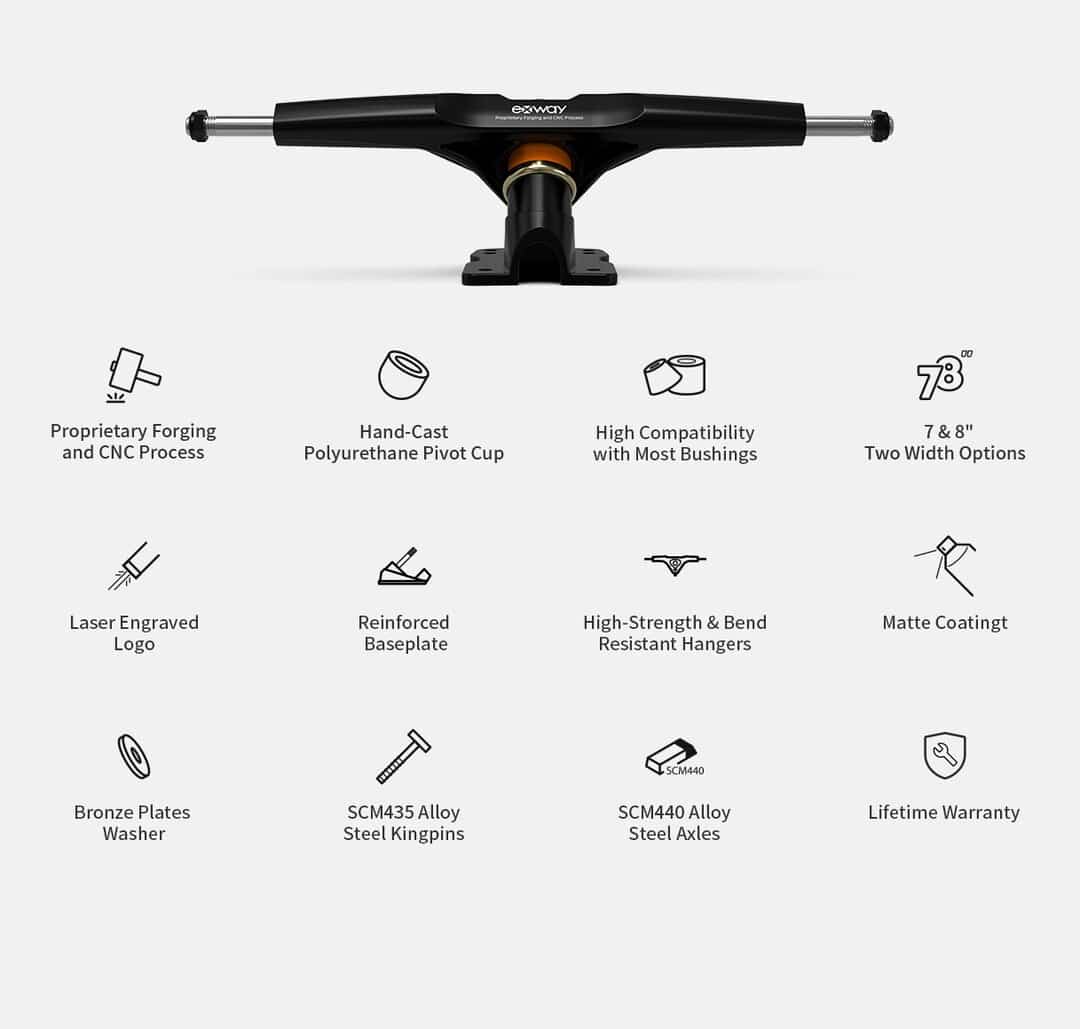 Included in package
Electric skateboard
Remote Control
Charger for board
USB cable for charging the remote
Skate tool
Product Manual
Please read the safety information carefully before purchasing!
Additional information
| | |
| --- | --- |
| Max speed | 40km/h |
| Charging time | 4-5h |
| Climbing grade | 30% |
| Range | 30km |
| Motor type | Hub motors |
| Motor | 1200w (dual) |
| Regenerative brakes | Yes |
| Wheel size | 85mm |
| Weight | 7.7kg |
| Brand | Exway |
---